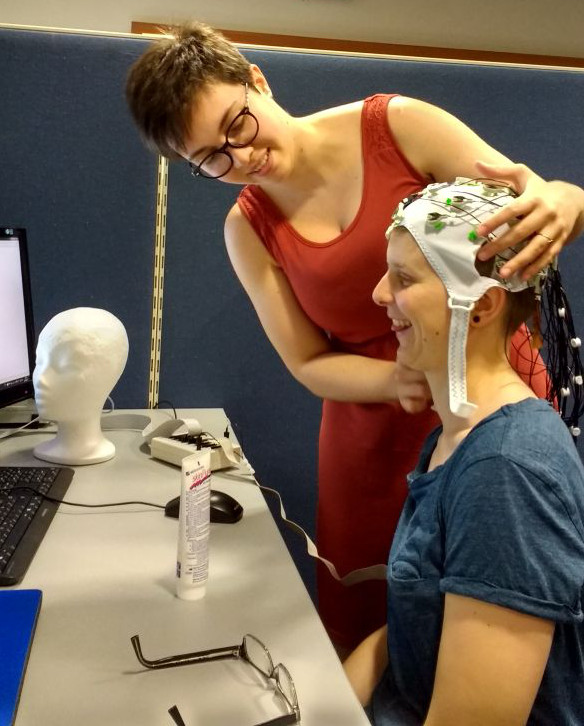 Yoana Vergilova
PhD Student at the Psycholinguistics Group
email: vergil AT coli.uni-saarland.de
address: Campus C7.1, room 1.19

Research
I work in cognitive science and psycholinguistics and am mainly interested in the differences of processing between the two cerebral hemispheres, specifically in how they use the preceding context (top-down processing) together with immediate input characteristics (bottom-up processing) to anticipate upcoming words in a sentence. I use ERPs to look at the extended timeline of word processing in context, from lower level (P2, N2) to later (N400, late positivity) stages of processing. I am also interested in how people understand grammatical gender and associate it with various semantic categories.
I am a PhD student in Matt Crocker's psycholinguistics lab.
Biography
I received my BA in Psychology (2011) and MSc in Cognitive Science (2012) from New Bulgarian University, Sofia. I've worked as a project manager for Google Speech Data Operations, Sofia during my master's and as an international adoptions psychologist in Sofia right after. During my PhD studies, I spent Aug - Nov, 2015 as a visiting researcher in Marta Kutas' Lab at UCSD.
I speak native Bulgarian and fluent English, as well as semi-proficient German and Russian.
Here's my CV.
Personal
I find science fiction in all of its forms very enjoyable. I also spend my time stitching, bouldering, and doing martial arts.