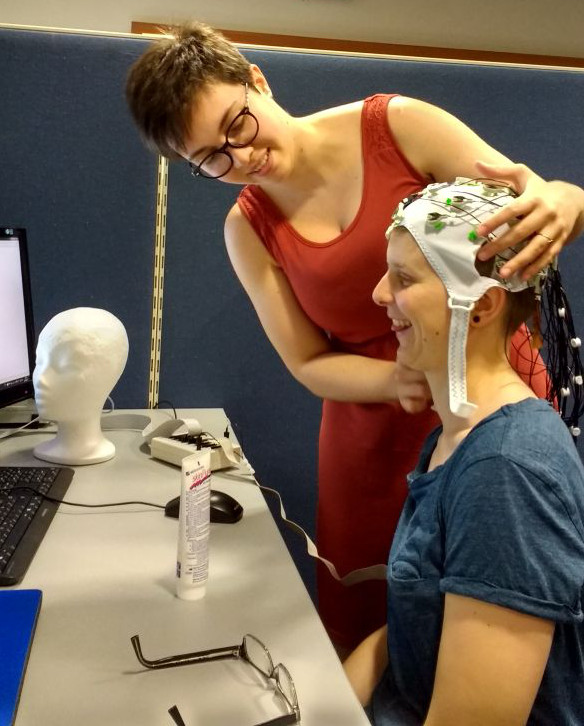 Yoana Vergilova
PhD Student at the Psycholinguistics Group
email: vergil AT coli.uni-saarland.de
address: Campus A1.3, room 2.12
tel: +49 681 302 3878

Research
I work in cognitive science and psycholinguistics and am mainly interested in how preceding sentential context affects input characteristics processing during word anticipation in sentence comprehension. So far I've looked into hemispheric differences in sentence processing and am currently focusing on school-aged children's use of context. I apply ERPs to look at the extended timeline of word processing in context, from lower level (P2, N2) to later (N400, late positivity) stages of processing.
I did my PhD in Matt Crocker's psycholinguistics lab and am currently a post-doc in SFB/CRC "Information Density and Linguistic Encoding" (project A5) working with Jutta Kray and Maria Staudte.
Biography
I received my BA in Psychology (2011) and MSc in Cognitive Science (2012) from New Bulgarian University, Sofia. I've worked as a project manager for Google Speech Data Operations, Sofia during my master's and as an international adoptions psychologist in Sofia right after. During my PhD studies, I spent Aug - Nov, 2015 as a visiting researcher in Marta Kutas' Lab at UCSD.
I speak native Bulgarian and fluent English, as well as proficient German and Russian.
Here's my CV.
Personal
I find science fiction in all its forms very enjoyable. I also spend my free time stitching, bouldering, and doing martial arts.