Social Program
Preliminary plans include a boat trip on the Saar on Thursday from Saarlouis to Merzig and back. Dinner on this day will be in form of a BBQ on the boat. For more information about the trip you can check
www.saarschiff.com
(German only).
The celtic dinner on
Friday
is arranged by the Hotel, whose kitchen is very well regarded in the Saarland.
Depending on the weather a short hike to the nearby Teufelsburg (Devil's Castle) is planned on Saturday.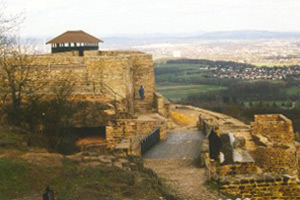 Burg Neufelsberg (called Teufelsburg) was built between 1354 and 1390. It was built as a fortification castle with state of the art war and defensive features. The upper part of the fortification (not yet excavated) had to watch over the plain whereas the lower part guarded the valley. Apart from defending, the Teufelsburg had to secure the roads and provide an escort if necessary. It is not known exactly when the castle was destroyed. The last time it was mentioned was 1699, but most likely it was partially destroyed in the French-Lorraine War (1590). The lower part is partially excavated and rebuilt. From there you have great view over the valley of the Saar.
The name Teufelsburg (Devil's Castle) stems from an old saga about two brothers fighting for the same woman, Alice of Forbach. One of the brothers, the lord of Neufelsberg, made a pact with the devil to win the fight and thus Alice. Indeed he won, but it is said that when the wind blows you can still hear him lamenting because his soul is damned to hell.
Here some links for more (German) information about the Teufelsburg:
·
Teufelsburg Society
. The society organises the excavation and restauration of the castle. They also re-enact knight tournaments and offer guided tours. The foto and the information on our webpage were friendly provided from this society.
·
Teufelsburg page of www.saarland.de
with some nice fotos.
·
Naturpark Saar-Hunsrueck
with some general information about the area.
There are also lots of ways to spend some time your own.
At Hotel Scheidberg there is the possibility to rent a bike to make a trip to nearby France (about 10 km away) or take a ride on horseback.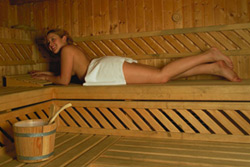 One of the most beautiful golf courses is located right outside the hotel so you might also consider taking some golf lessons here. For the more adventurous skydiving can be arranged.
If you are interested in any of this please contact Hotel Scheidberg.
You can also make a visit to the sauna (fee is included in accomodation), take a relaxing break in the Zen garden or get some exercise in the fitness studio.
If you want to do some sightseeing or shopping,
Saarlouis
and
Saarbrücken
are just a couple of minutes by car away.